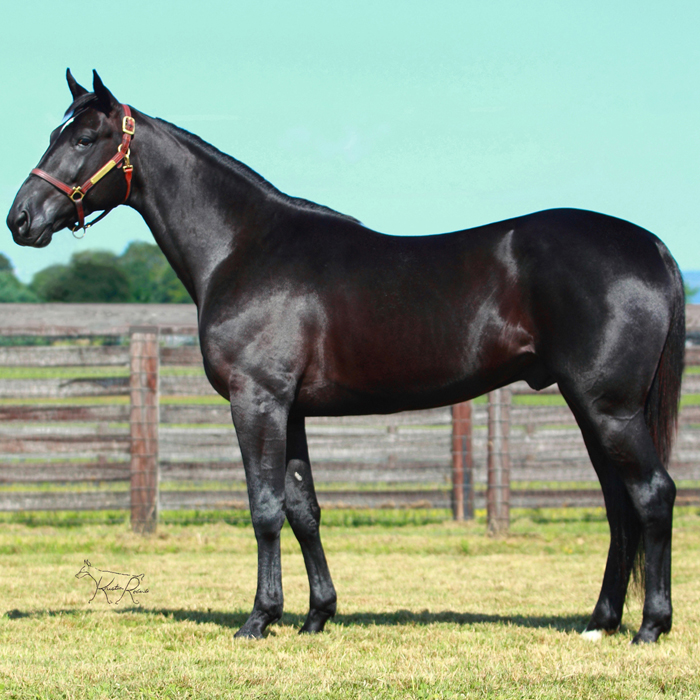 Archangel
2, 1:58.2s; 3, 1:53.1s; 1:50 ($1,141,831)
Sold at Harrisburg as a yearling for $120,000
Dam is Michelle's Angel, 3, 1:54 ($436,921)
2nd dam is Almost An Angel, 3, 1:56 ($959,695 international)

At 2, Winner of 2 New York Sire Stakes divisions & New York State Fair
2nd in Breeders Crown elimination, John Simpson Memorial, 3 New York Sire Stakes divisions & New York Sire Stakes Final
At 3, Winner of Empire Breeders Classic elimination & Final, Kentucky Futurity heat, New York State Fair, 5 New York Sire Stakes divisions & Yonkers Trot
Set World Record of 1:54.1 winning the Yonkers Trot. World Record for 3-year-olds on a half-mile track, a track record for the same division, the fastest Yonkers Trot ever raced & a tie for the all-age trotting track record
Set all-age track record of 1:54.3 winning New York Sire Stakes division at Batavia Downs, the previous record had been 1:56 & had stood since 1993
2nd in Hambletonian elimination & New York Sire Stakes prep race
At 4, bred a select group of mares
At 5, returned to the races & set World Record of 1:50 at The Meadowlands
Set Record while winning John Cashman Memorial elimination
2nd in the Charlie Hill Memorial and Crawford Farms Trot
During his career, was able to win on a 1/2-mile track, 5/8-mile track, 7/8 mile track & mile track
Competed and won against the best trotters in North America including Market Share and Sebastian K
According to the USTA, Archangel was #1 for all North American stallions in 2017 for all-age average earnings per starter

In 2017, Archangel was #2 for 3-year-old average earnings per starter (just behind Muscle Hill)
From limited 1st crop (now 4), sire of:

Yonkers Trot Winner, Top Flight Angel, 1:52.3f -'18 ($814,627)

USTA District 8 3-Year-Old Colt Trot Champion


Breeders Crown elimination Winner, Guardian Angel AS, 1:50.4f -'18 ($521,682)
Hudson Trot Winner, Celebrity Ruth, 1:51.4 -'18 ($508,429)

NYSS Winner, Icanflylikeanangel, 3, 1:54.3f ($208,037)

MASS Winner, Onangelwings, 3, 1:58.4f ($174,354)
1st Ontario Crop now 2. Sire of:


ONSS Gold Winner, Dream Nation, 2, 1:55.3s -'18 ($205,290)
ONSS Gold Winner, Teddyslittleangel, 2, 1:57.1s -'18 ($150,920)
As earnings & records as of 11/30/18
STUD FEE:
$7,500 CAD
Credit Winner
American Winner
Lawn Tennis
Michelle's Angel
Andover Hall
Almost An Angel
Links
TrackIt Pedigree
2019 Ontario Stallion Contract
Hypothetical Matings (USTA)
Kentucky Futurity (YouTube)
Ontario Sire Stakes
News
"Archangel is one of the classiest horses I have been around, it was a pleasure to have been a part of his fabulous career, " said Peter Arrigenna, Archangel's trainer. "He always gave his best and then some, I have such fond memories of him".
"We are very excited to add Archangel, who has a stakes-winning race record and has a World Champion pedigree, to the lineup," said Larry Drysdale, Winbak of Ontario Manager. "His offspring will be potentially eligible to the lucrative Ontario Sire Stakes program, that competed for 15.9 Million in 2014".
Two Angels Win Breeders Crown elims 10/21/18
Angel, Sunfire Take Yonkers Opens 9/9/18
Holliday Hits For Six In Hanover 9/2/18
Angel In Top Flight At Yonkers 8/26/18
Dream Nation Nabs Balanced Image 8/26/18
Guardian Angel AS wins Yonkers feature 8/12/18
Icanflylikeanangel Circles Batavia Trotters 8/5/18
Dream Nation equals Georgian record 7/30/18
Guardian Angel As sets record at Harrah's 7/22/18
Teddys Littleangel Tops Grassroots 7/15/18
Lorentzon Discusses Guardian Angel As 7/12/18
Track Record For Guardian Angel As 6/24/18
Celebrity Ruth Rallies To Win Top Trot 5/24/18
Archangel's Book is Full & Closed 3/8/18
A conversation with Julie Miller 2/5/18
Crosses of Gold
Proven success with mares by these sires
Angus Hall, Balanced Image, Broadway Hall, Conway Hall, Donerail, Dream Vacation, Kadabra, Lindy Lane, Malabar Man, Mr Lavec,
Muscles Yankee, S J's Photo, Tom Ridge & Windsong's Legacy