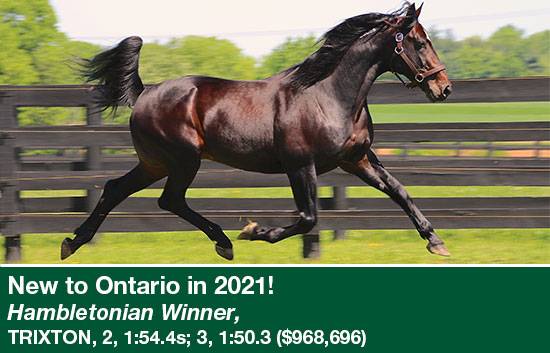 NEWS
Winbak Farm Videos for Goshen Yearling Sale Now Posted
Thursday, August 18, 2016 By: Elizabeth Cheesman
Winbak Farm is excited to be a partner in the second annual Goshen Yearling Sale, which will be held September 18th at the Mark Ford Training Center in Middletown, New York.
Click Here to Read More
Schoeffel, Daugherty big winners at Waynesburg Fair
Wednesday, August 10, 2016 By: PA Fair Harness Horsemen's Association
Waynesburg, PA --- The freshmen were featured on the opening card of a two-day Pennsylvania Fair Circuit stand at the Greene County Fair on Tuesday (Aug. 9) in this southwestern Pennsylvania town which is famous as being the hometown of the world's winningest harness driver, Dave Palone.
Click Here to Read More
Trotters Destroy Track Records
Wednesday, August 10, 2016 By: Standardbred Canada
The Ontario Sires Stakes program's talented three-year-old male trotters and two-year-old filly trotters invaded Grand River Raceway on Wednesday (August 10) and destroyed their respective divisional track records during the evening's Gold Series action.
Click Here to Read More
Click Here for Additional News