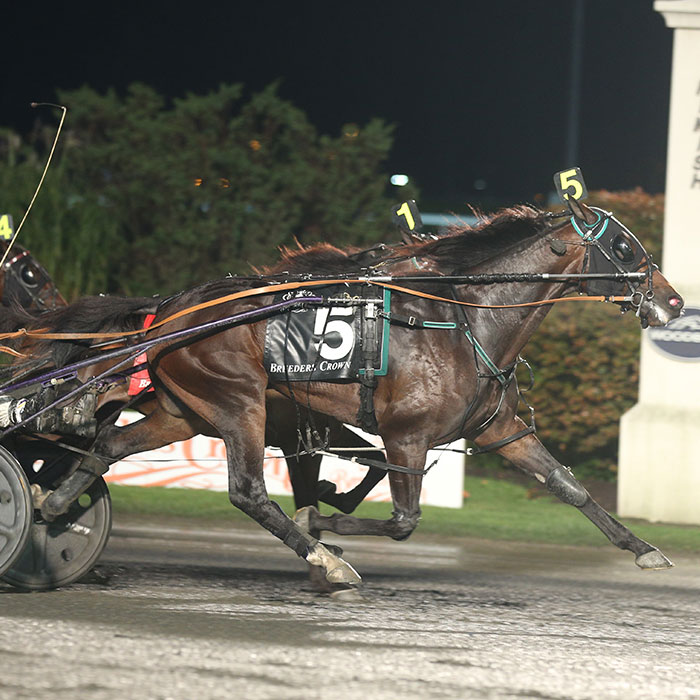 The Bank
2, 1:53.4; 3, 1:50.4 ($1,214,895)
Fastest & richest son of Donato Hanover

Son of O'Brien & USHWA Dan Patch 3YO Trotting Filly of the Year, Lantern Kronos, 3, 1:52.3 ($1,020,150)

Daughter of Viking Kronos, a leading sire in Europe for 2 decades. Earned $600,000 int. & won 12 of 14 races
Dam of Hudson River, 2, 1:55.2 ($209,931), & King On The Hill, 3, 1:53.2 ($184,264)
Grand-dam of PASS Champion, Osterc, 3, 1:52.2f -'19 ($457,835)
Grand-dam of PASS Winner, Insta Glam, 2, 1:54f -'20 ($332,119)
Full-sister to European Champion, Going Kronos ($828,295), who won 21 of his 40 starts, & Moonlight Kronos (finished 2nd in Hambletonian Oaks elimination) (Moonlight Kronos

is the dam of

Dibaba

, 1:54.3f ($500,000+ int.))

At 2, Winner of Bluegrass Series division at The Red Mile in 1:53.4 against Big Rich & Piercewave Hanover
Winner of Pennsylvania All Stars Stakes division in 1:56.3 at Pocono Downs against Centurion ATM & Honor And Serve

Second in Breeders Crown elimination & Kindergarten Series leg

Fastest 3YO Colt Trotter of his 3YO Season

At 3, Winner of $648,700 Breeders Crown Final in 1:54.3 at Woodbine. Won against French Laundry , Muscle Diamond, Pinkman & Uncle Lasse
Winner of $204,000 American-National Stakes at Balmoral Park in 1:53.1. Won against Habitat & Homicide Hunter
Winner of $159,750 Stanley Dancer Memorial in lifetime best 1:50.4 at The Meadowlands. Won against Centurion ATM, Crazy Wow & French Laundry
Winner of Pennsylvania Sire Stakes leg & $350,000 Pennsylvania Sire Stakes Final. Winner of Final in 1:53.1 at Pocono Downs against Cue Hall, Uncle Lasse & Wicker Hanover

Second in Bluegrass Stakes division, Canadian Trotting Classic elimination, Hambletonian elimination, Colonial Final, Goodtimes Trot elimination & Final

Top 6 Stallion in Sweden in 2020 for 3YO Trotters

Sire of Caramel Club - Voted Italy's 2YO Trotter of the Year in 2020

STUD FEE:
$5,000 CAD
Donato Hanover
Andover Hall
D Train
Lantern Kronos
Viking Kronos
Bell Power
Links
TrackIt Pedigree
2021 Booking Application PDF
Hypothetical Matings (USTA)
Breeders Crown (YouTube)
Stanley Dancer Memorial (YouTube)
Ontario Sire Stakes
News
"The Bank is a successful international stallion and we are happy to be his North American home."
-Joe Thomson, Winbak Farm Owner
"It is great to see The Bank back in North America. I had the opportunity to develop him from a baby. He competed and won the most important races in North America. His speed, stamina and great attitude were some of the qualities that made him the fastest three-year-old in North America in 2015. I was also fortunate to train his dam Lantern Kronos, who made over $1,000,000 and was the O'Brien Three-Year-Old Trotting Filly of the Year. Her sire, Viking Kronos, is one of the most valuable and successful stallions ever in European breeding. I look forward to inspecting and purchasing The Bank's first crop North American yearlings in 2022."
-Jimmy Takter, Trainer
New season's leader from Italy 2/27/21
154,000€ Anact Finals in Italy 11/5/20
Ketevesek Nagydija to Csak A Szel 10/13/20
The Bank Moves to Ontario 12/4/19
Crosses of Gold
Standing 2nd North American season in 2021. Should be a great cross for:
Angus Hall
Broadway Hall
CR Commando

Dream Vacation

Glidemaster

Kadabra
Lindy Lane

Malabar Man

Muscles Yankee