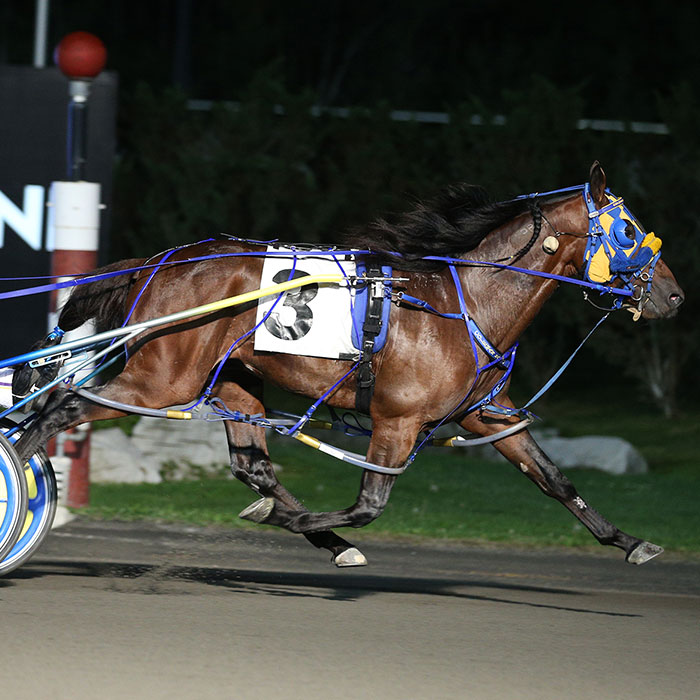 Stag Party
p, 2, 1:50.4s; 2, 1:52.3h -'18 ($962,645)
Standing 2nd Season in 2021!
Winner of 2018 O'Brien Award for Two Year Old Pacing Colts/Geldings

$125,000 Yearling from 2017 Harrisburg Sale

Fastest 2YO on a 1/2-mile track in Canadian history (1:52.3)

At 2, Winner of Metro Pace elimination & Final

Winner of Nassagaweya Stakes division & 2 Ontario Sire Stakes Gold legs

Competed and won against the best of his crop including Bettor's Wish, Semi Tough and Shake That House
Now offering a 25% discount to 2021 Breeders! Call 905.838.2145 for more information.
STUD FEE: $4,000 CAD ($3,000 US)
Ontario Stallion - Stag Party
Bettor's Delight
Cam's Card Shark
Classic Wish
My Lady Day
Western Ideal
Economic Clout
Testimonials / Latest News
"He came to his speed very early at 2. He is a very fast and handy horse."

-David Miller, driver




"Stag Party is a gorgeous Bettor's Delight colt that has very good size. He sold for $125,000 as a yearling at Harrisburg and he was the second highest Bettor's Delight colt sold there in 2017. This colt is very, very well bred. He is smart with the perfect gait."

-Casie Coleman, Trainer




"Stag Party going first over in the Metro Pace and then winning by pulling away by 4 lengths was unheard of. He was great on any size track. At 2, his 1:52.3 mile to win the Ontario Sire Stakes Gold leg was unbelieveable."

-Coleman




"When I first watched Stag Party race I was very impressed and I thought he was the whole package. The fact that he earned $950,000 proved that is true. I will be breeding nice mares to him and I'm looking forward to seeing his first crop on the track."

-Eric Cherry, co-owner




"Stag Party is a familiar name in Ontario that has the pedigree and record to make him a strong contender in the Ontario breeding program. Stag Party had the speed needed to make money. As a Bettor's Delight, his offspring should perform well, I am confident they will be tough racehorses."

-Pat Woods, Winbak Farm of Ontario Manager




Special Discount Now Offered 4/5/21

Stag Party's First Foal Arrives 2/2/21

Stag Party To Winbak of ONT 12/4/19
Should be a great cross for:
Art Major
Artiscape
Artsplace
Badlands Hanover
Blissfull Hall

Grinfromeartoear
Mach Three

McArdle
Royal Mattjesty
Shadow Play
Somebeachsomewhere

Sportswriter
Well Said

Western Hanover