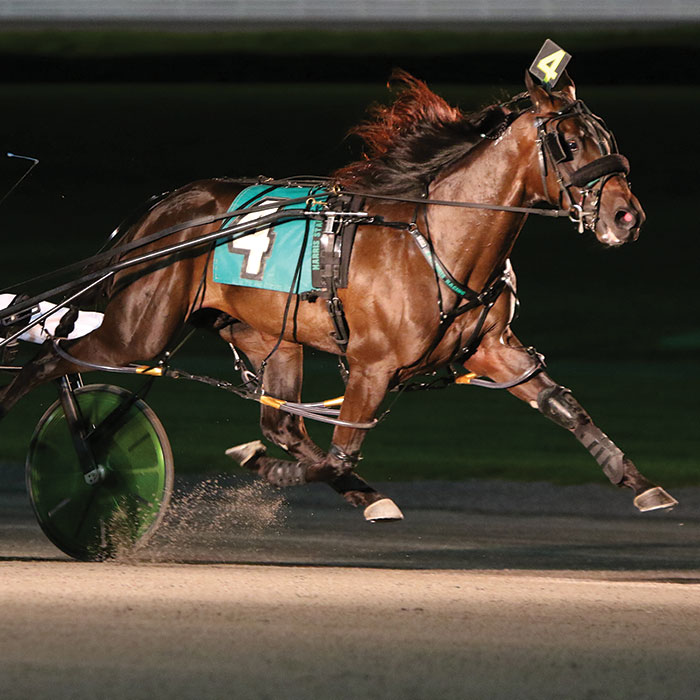 Jimmy Freight
p, 2, 1:52.3s; 3, 1:48.3s; 1:48.1s ($1,806,125)
Fastest and Richest Son of Sportswriter

Only Sportswriter Millionaire

Winner of 32 races

At 2, 12 starts: 7-3-2. Winner of 2 Ontario Sires Stakes Gold legs. Second in Final

2018 O'Brien Award Winner for 3-Year-Old Pacing Colts

At 3, Winner of Messenger Stakes elimination, Progress Pace elimination & Somebeachsomewhere Stakes

Winner of 4 Ontario Sire Stakes Gold legs & Super Final

Set track record at Yonkers in 1:50.3h for three-year-olds

Set track record at Rideau Carleton in 1:50.3f for three-year-olds

Second in Carl Milstein Memorial division, Messenger Final & Progress Pace Final. Third in the Mohawk Gold Cup (as a three-year-old against Open horses)

At 4, Winner of Dayton Pacing Derby & Mohawk Gold Cup

Second in Battle of Lake Erie division, Confederation Cup Final, & Graduate Series division

Raced on every track size: 1/2, 5/8, 7/8, & Mile. Fast-gaited and exceptional on all tracks. Timed in 1:47.1

Winner of 2022 Camluck Classic

Second in 2022 Battle Of Lake Erie Final

Look for first crop at 2022 yearling sales!
Limited syndicate opportunities available, call 905.838.2145 for more information.
$100,000 Jimmy Freight Stakes Commercial (YouTube)
Adriano's Interview on Jimmy Freight (YouTube)
STUD FEE: $3,500 CAD
Ontario Stallion - Jimmy Freight
Sportswriter
Artsplace
Precious Beauty
Allamerican Summer
Western Ideal
Donna Summer
Testimonials / Latest News
"He was a perfect horse to drive. He could race any way you wanted him to race on any size track. That is a big asset that not every horse has. He was super consistent and always tried his best and I don't think he ever raced bad. I hope he passes along those qualities, as well as his perfect gait, to his offspring so that I get the chance to drive them in all of the biggest stakes races."

-Louis-Philippe Roy, driver





"Every driver that has sat behind Jimmy Freight loves him and every person that watches him race appreciates his desire and competitiveness. He has been an absolute pleasure to drive and I hope his offspring inherit his professionalism, versatility and true grit that he has had week in and week out."

-Scott Zeron, driver





"Each and every time he stepped on to the race track it was all business. His will to compete was remarkable, and his handiness and gait on all size tracks was incomparable. He was a dominating force in the Ontario Sire Stakes program, and he went toe to toe with the aged pacers in the grand circuit. He is truly the best I've ever owned."

-Adriano Sorella, Jimmy Freight's owner




"We are excited to stand the only Millionaire son of Sportswriter. Jimmy Freight dominated the Ontario Sire Stakes Program before successfully racing against North America's best open pacers. His big gait and race toughness proved valuable racing against North America's best aged pacers. I look forward to him passing on those desirable traits."

-Pat Woods, Winbak Farm of Ontario Manager

Jimmy Freight: Fifth Straight 5/15/22

Saturday is JF night at Mohawk 4/17/22

Jimmy Freight 'Threepeats' 4/17/22

JF Dominates at Mohawk 4/10/22

Jimmy Freight Fires At Mohawk 3/6/22

Stallion & On-Track Warrior 3/1/22

Race And Breed 11/7/21
Should be a great cross for:
Allamerican Native
Badlands Hanover
Betterthancheddar
Bettor's Delight
Blissfull Hall

Cam's Card Shark
Camluck
Life Sign

Mach Three
McArdle
Roll With Joe
Royal Mattjesty
Rustler Hanover

Shadow Play

Somebeachsomewhere