Winbak Staff Biography
Read below to learn more about individual members of our knowledgable staff.
Dr. Jenny Hamilton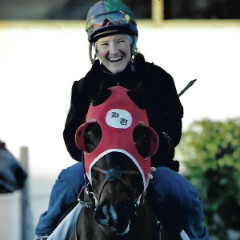 Farm Veterinarian
Email: jenny.hamilton@winbakfarm.com
Phone: 410-885-3059


Employed with Winbak Farm since 2020
A native of Oakland California, Jenny started riding around age 6. After obtaining a bachelor's degree in Biology from the University of Calilfornia Santa Barbara, she started riding professionally at hunter/jumper barns and moved on to riding at Thoroughbred racetracks. She rode professionally as an exercise rider in New Zealand and as a jockey at various Thoroughbred racetracks in N. California and the Mid-Atlantic region.
While obtaining a DVM from Maryland Virginia Regional College of Veterinary Medicine, she attended farrier school and is a certificated farrier. After graduation, she completed 6 months of an internship at Cornell Ruffian Equine Specialty Hospital in New York, before coming to Winbak Farm.
In her spare time, she enjoys hiking, reading, travel, gardening and hanging out with her dog.