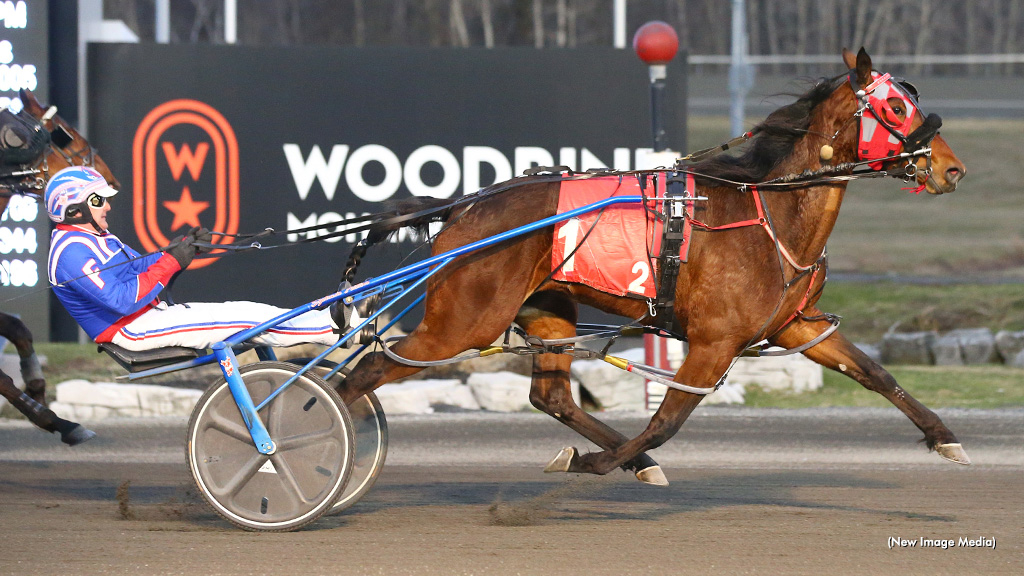 Sophomore fillies hit the track at Woodbine Mohawk Park on Thursday night (April 6) for three $18,000 divisions on the pace and one on the trot for the Ontario-Sired Spring Series.
Tesla Power opened the action with a sweeping move to post a 1:55 win in the first division of the pace. Driver Sylvain Filion sat third with the daughter of Betterthancheddar and waited till three-quarters to make a move off the pegs and after duelling leaders Oh Gouda and Chedda Chedda. Tesla Power pounced over the top of the two and scooted to a 1-1/2-length win over Chedda Chedda with Oh Gouda third and Sweetest Belle settling for fourth. Kyle Fellows conditions the $12 winner for owners Yolanda Fellows, Patrick Dillon and Patti Hoskin.
Dewitt This Moment led nearly every step of the other pacing division to win in 1:55.2. Once Doug McNair circled the Control The Moment filly to the point past the quarter, she held her ground and repelled a first-over challenge from Chakka off the final turn. She then kept late pushes from 2-5 favourite Elises Delight and Dakota Shadow at bay to win by a half length. Paul Ritchie owns and trains the $14.50 winner.
Bigger balloons popped in the final division of the pace when Team Cullen caught pacesetter Lady Jess with Wifey Said So to win at 25-1 in 1:55.3. The filly by Sunshine Beach drafted behind Lady Jess through the mile and slid from the pocket in the lane to secure a length victory and return a $52.10 mutuel, while No Money Honey rallied to finish third and Steel Beauty took fourth. Travis Cullen steered the Jodie Cullen trainee. He co-owns the filly with Ronald Cullen and Keith Hannah.
Matt Bax sat and capitalized off a pocket ride with his pupil Match Meif You Can to win the lone division on the trot in 1:59. Bax cleared control with the daughter of Resolve to the quarter but yielded command to Muscling Vegas up the backstretch. She then emerged off the tempo-setter's back in the straightaway and out-sprinted her to the tune of a half length with HP Extra Ice another four lengths behind in third and Divinne Magic another four behind in fourth. Match Meif You Can pulled a minor upset to return $21.40 to win while cashing a cheque for owners Bax Stable, Marshall Bax and Kenneth Andrews.