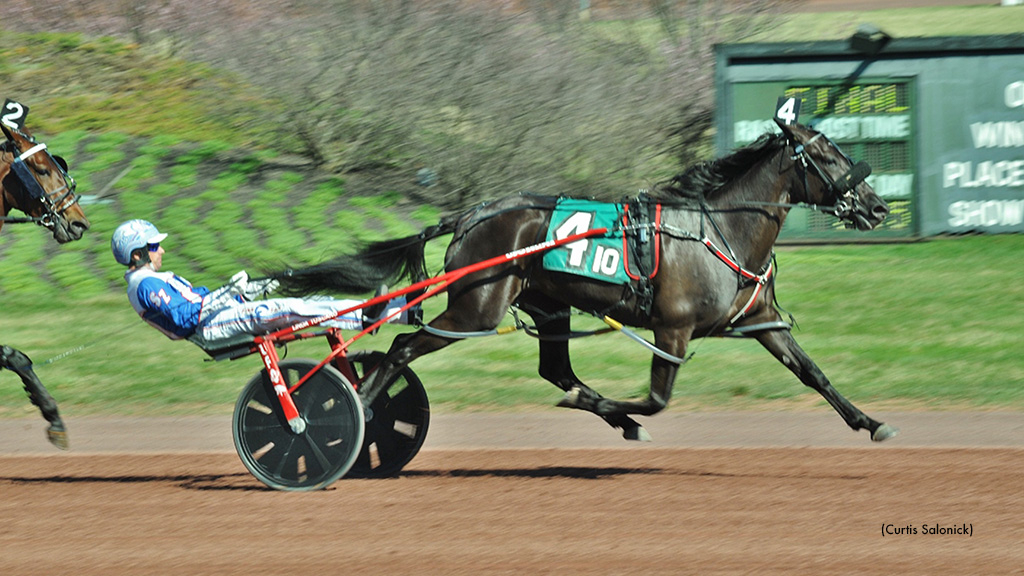 The Monday afternoon (April 10) card at Pocono Downs at Mohegan Pennsylvania featured five divisions of two ongoing series: $20,000 a section for the first preliminary of the Bobby Weiss Series for three-year-old pacing fillies, and five $9,000 cuts of the second prelim of the Game Of Claims Pacing Series for horses who raced with a base tag of $12,500.
In the Weiss Series, two fillies posted a clocking of 1:52.1. One was C Is For Cookie, a daughter of Betting Line – Sweet Future, with whom cameo-appearance driver Scott Zeron was just a passenger late in winning by 1-1/2 lengths for trainer Linda Toscano and Birnam Wood Farms.
The other victress in that time was the first of two Weiss wins for driver Braxten Boyd, the Huntsville filly Sweet Home, coming up the inside from third-in to win by 1-1/2 lengths and take a new mark for trainer Hunter Oakes and owner Chuck Pompey. Boyd also succeeded with Caris, a daughter of A Rocknroll Dance who reported home first in 1:54.1, a nose to the good of Dance Number for trainer Nicholas Devita and owner John Cummins.
B On The Hunt completed a siring double for Huntsville when she lowered her mark to 1:53.4, at the finish a head ahead of EA Audit for driver Marcus Miller, trainer Cory Stratton and the partnership of Our Three Sons Stable and Stratton Stable Inc. The Stay Hungry filly Relentless Julie sprung a 16-1 surprise in the other Weiss cut, breaking her maiden in 1:52.4 while a neck in front of Team Colors for trainer Travis Alexander, Fiddler's Creek Stables and driver Jim Pantaleano.
Pantaleano would combine with trainer Brandon Presto to take two divisions of the Game Of Claims Series. The faster of their pair was Friday Night Blues (1:52.2 for a new mark), who was claimed, and Riot (1:52.4), who was not.
There were two horses running their record to two-for-two in the series: Apple Valley Art (1:53.4, driver George Napolitano Jr., claimed) and Hudsen A (1:54.1, Pat Lachance, not claimed). The other Monday Game Of Claims winner was Howtotrainurdragon (1:52.3, Matt Kakaley, not claimed).
All three Game Of Claims winners who did not post their second straight victory are also undefeated in the series as they didn't race in the first leg, which may go against them when eligibility for their championship is tallied.
Tuesday's (April 10) card at 1 p.m. closes out the racing week at Pocono, and there will be 10 races with $20,000 purses: four of them in the first preliminary of the Weiss Series for three-year-old trotting fillies, and six of them in the second preliminary of the Game Of Claims Trotting Series for horses who this week will race with a base-tag price of $27,500.