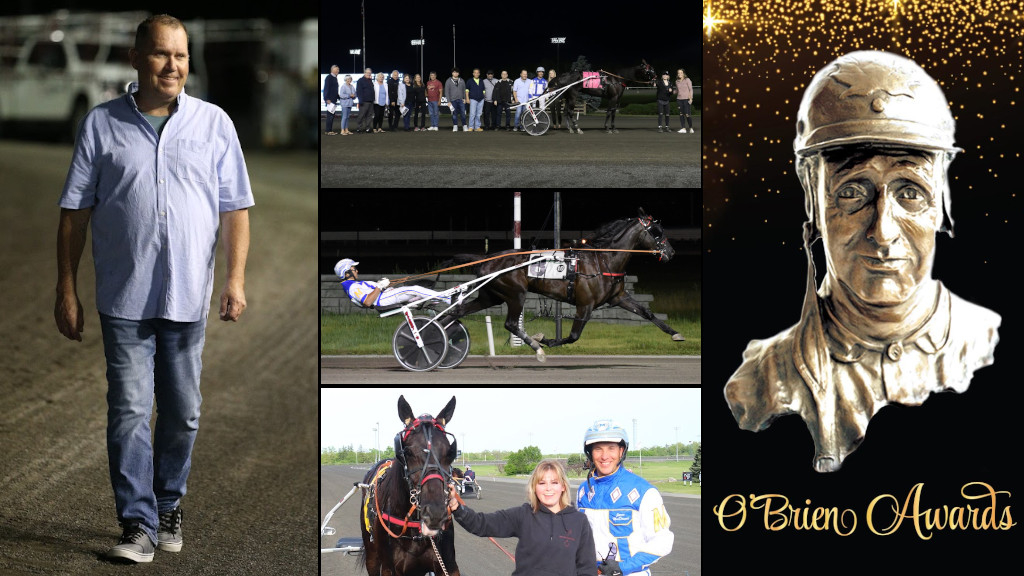 Twin B Archie's 2021 O'Brien Award nomination may have come as a surprise to trainer and co-owner Scott McEneny, but the trotter's follow-up season warrants serious consideration for divisional honours.
Bred by Twinbook Limited of Embro, Ont., the Archangel-Affair Hall gelding was a $52,000 Black Book yearling purchase and has since earned $775,518 during back-to-back O'Brien Award nominated campaigns.
After closing out his freshman year with a victory in the Ontario Sires Stakes Super Final, Twin B Archie returned to the track a winner by kicking off his sophomore season with a sweep of the SBOA Stakes elimination and final. He was the Ontario Sires Stakes divisional leader throughout the regular season as he went on to win a pair of Gold Series divisions and hit the board during two other legs before finishing third in the Super Final.
While facing Grand Circuit competition, he won the Simcoe Stakes over 2021 O'Brien Award winner Duly Resolved as well as an elimination of the Goodtimes to take his mark of 1:53.1 before finishing second in the final.
In total, he won six races and earned $490,502 through 14 sophomore starts for McEneny and partners Domenic Chiaravalle of Hamilton, Ont., Floyd Marshall of Jarvis, Ont., and Martwest Racing Stable of Mississauga, Ont.
Twin B Archie is an 2022 O'Brien finalist in the Three-Year-Old Trotting Colt of the Year category along with another son of Archangel, the Ontario Sires Stakes Super Final winner Safe Conduct.
While Twin B Archie settled for the runner-up honours at the O'Briens in his debut season after knocking heads with the sport's two-year-old divisional winners Duly Resolved (Canada) and King Of The North (U.S.), McEneny believes his trainee's chances are better this time around.
"I think he's got a pretty good shot there," McEneny told Trot Insider. "He's done what he did, he's won a couple other races other than Sires Stakes. He just got a little tired there at the end for the Super Final, but he was there every week to battle."
McEneny shares credit for Twin B Archie's success with his daughter Samantha, who looks after the stable star, and driver James MacDonald, who clicked with the trotter right off the bat.
The result was numerous highlights but Twin B Archie's effort in an Ontario Sires Stakes Gold Series division on July 10 at Rideau Carleton Raceway was most impressive.
"I think the best race he went was at Rideau Carleton," recalled McEneny. "He had the eight-hole, the outside, and he left like a rocket, went to the front and he was just on cruise control at the wire. The SBOA was good too. He never disappointed me in any of his races. He wasn't 100 per cent in a lot of them but he always tried."
McEneny says that was a key attribute to the gelding's success.
"He's got a big heart. He's very game, he wants to race… His gait, too, he's a great gaited horse. He only needs the trotting hopples just behind the gate – he just gets a little mixed up – but other than that, he's pretty flawless."
Twin B Archie is currently enjoying the Florida sunshine after helping pave the way for the 20-head McEneny stable to ship south for the winter for the first time. Arriving at Spring Garden Ranch at the start of the year, McEneny says Twin B Archie will be ready to go for his four-year-old campaign when he returns home in the spring.
"They wrote that new race there for Ontario-sired four-year-olds [the Ontario Graduate Series at Mohawk, starting in April] so I'm planning on hopefully qualifying here at the farm the first week of April, and then I will send him home with the other three-year-olds right after that. [He'll] probably hit the second leg – probably miss the first leg – just because I didn't want to get too ready early.
"He's pretty easy on himself and he won't take that much to get qualified and ready to roll. And with that just being Ontario-sired four-year-olds, there are probably not going to be that many divisions being an open concept. We'll play it by ear. I'm not going to rush him if something happens to him. If he doesn't make it, he doesn't make it. But that's our plan, to get him ready for that stakes."
McEneny, who mainly focuses on racing young horses, currently has 14 two-year-olds and five three-year-olds in training down south with Twin B Archie being the lone older racehorse to remain in his stable for the 2023 season.
"I think he's going to make a real nice horse to race around Free-For-Alls," said McEneny. "I just think each year he's going to get better and stronger. I've always wanted to have an aged trotter that can race in the Opens and maybe some of the stakes races. Will he do much travelling? I'm not sure on that part, we'll play it by ear and how good he is. But if I sold him, my daughter wouldn't talk to me for the rest of my life.
"For years, I've loved watching the aged trots. Nowadays, these four-year-olds are doing good against these aged trotters. 'Archie' trotted in [1:]53 a couple of times and not being 100 per cent. And, like I said, if we pick our races with him this year at four, I think we can make some money or he'll at least be able to race in the top classes. We can't stand him to stud, I know that."
The McEneny family favourite will be among 24 horses in the spotlight on Saturday night (Feb. 4) when Standardbred Canada will crown a dozen champions at the O'Brien Awards Black Tie Gala in Mississauga, Ont. Jet-setting back home for the weekend, McEneny will be among those in attendance celebrating the 2022 stars of Canadian harness racing and reconnecting with old friends.
"We won with Bettors Up [in 2017] and I won a bunch there years and years ago with John Grant. It's a great time," said McEneny, who most notably connected with Grant on 2001 Horse of the Year Bettors Delight. "It's a good time. When you go to those awards, you see a lot of people you haven't seen, and especially when you get my age, you're seeing people from way back in the day. So, it'll be nice and hopefully we have a good turnout."
Those unable to attend the Black Tie Gala can catch the live stream of the awards presentation on standardbredcanada.ca this Saturday evening.