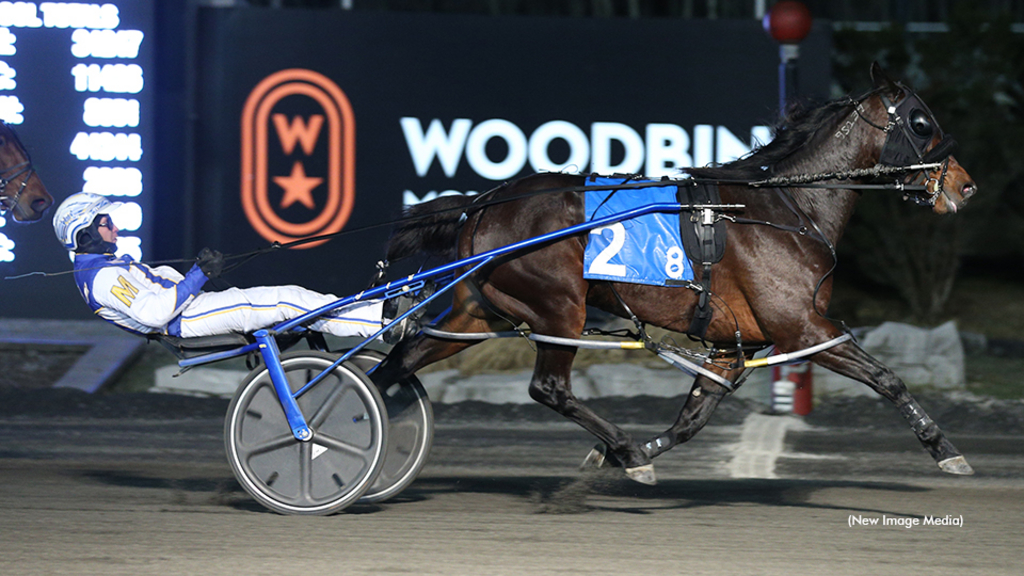 Linedrive Hanover is now 7 for 7 since starting his 2022 season at Woodbine Mohawk Park.
The 4-year-old gelding is trained by Anthony Beaton and has been driven by James Macdonald for his 7 victories in 2022. He is owned by West Wins Stable, McKinlay & Fielding, and Mac T. Nichol. He was bred by Daniel J. Altmeyer, Richard B. Kelson, and Heather Wilder.
"He is reminding me a lot of his sire, Betting Line, right now," said Anthony Beaton, Trainer. "Betting Line was very great-gaited and I find he is similar that way."
His most recent win came on March 26th, when he won in 1:53. His lifetime best was set on March 5th when he won in 1:52.2.
"He has a great desire, will and determination," said Beaton. "We hope we can just keep the momentum going."
Linedrive Hanover's largest victory was by 8 ¼ lengths when he won the Snowshoe Final in 1:53.3.
"Linedrive Hanover and Betting Line are very similar in stature," said Beaton. "We went to Winbak Farm of Canada and visited Betting Line when our own foal was born at the farm. It was the first time I had seen Betting Line when he was 3 and I find the two look very similar, and their size is comparable."
Linedrive Hanover's sire, Betting Line, stands his first year in Canada in 2022.
"Betting Lines are good-looking horses from what I have seen at sales," said Beaton. "I am training a 2-year-old Betting Line ½-sister to Vegas Vacation and she is probably one of the most athletic babies that I have."
Betting Line stands at Winbak Farm of Canada for $5,000 CAD. He previously stood in Pennsylvania.
"Betting Line is a sire that people should be happy about being in Ontario," said Beaton. "He could possibly be the one that jumps up and takes over for his sire, Bettor's Delight."
Visit www.winbakfarm.com for more information on Betting Line. For booking information, call Winbak Farm of Canada at 905.838.2145 or email canada@winbakfarm.com.