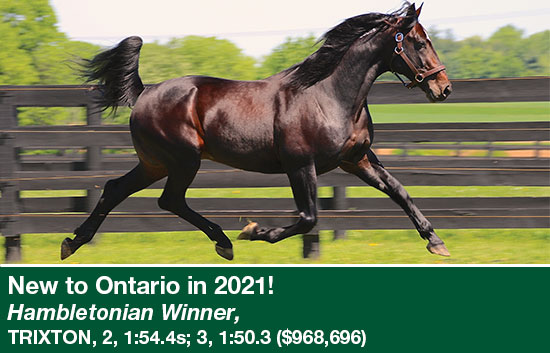 NEWS
Hes Marvalous Wires Them Up
Thursday, June 13, 2019 By: Standardbred Canada
Team Heffernan watched Hes Marvalous live up to his name by turning in a wire-to-wire triumph in the Thursday evening feature at the Charlottetown Driving Park.
Click Here to Read More
No Ordinary Man With No Ordinary Mile
Tuesday, June 11, 2019 By: Standardbred Canada
A $15,000 maiden pace highlighted the Tuesday, June 11 card at Woodbine Mohawk Park with Bettor B Going—entering off a 29-length victory at Kawartha Downs—losing to 1-5 favourite No Ordinary Man, who powered past to a blowout victory in 1:50.4.
Click Here to Read More
Sophomore male trotters arrive at Buffalo for NYSS
Tuesday, June 11, 2019 By: Brian Mazurek, for Buffalo Raceway
Hamburg, NY — The New York Sire Stakes for the 3-year-old colt and gelding trotters will take center stage at Buffalo Raceway on Wednesday night (June 12) with two divisions each worth approximately $58,000 being up for grabs. Post time for the 13-race card is 5 p.m.
Click Here to Read More
Click Here for Additional News