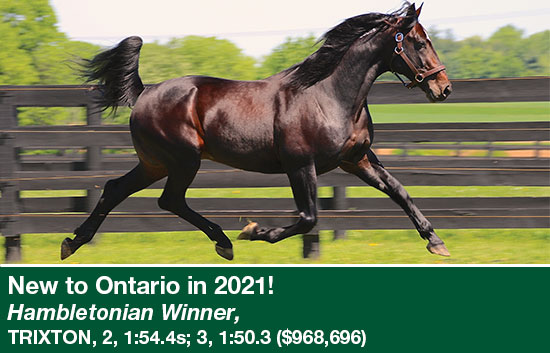 NEWS
SBOA Online Stallion Auction Info
Tuesday, January 21, 2020 By: Standardbred Canada
Officials with the Standardbred Breeders of Ontario Association have released information about the group's upcoming online stallion auction.
Click Here to Read More
Icanflylikeanangel Soars At The Meadows
Tuesday, January 21, 2020 By: Standardbred Canada
Icanflylikeanangel set sail after the leader Perlucky at the three-quarters, collared him in mid-stretch and went on to capture the $18,000 Open Handicap Trot at The Meadows on Tuesday (Jan. 21).
Click Here to Read More
Winbak Farm of Ontario to host Open House & Stallion Showcase
Monday, January 20, 2020 By: Elizabeth Cheesman
Winbak Farm of Ontario will be hosting a stallion showcase and open house on February 9th. The event will be from 12:00-3:00 and the stallion showcase will be from 2:00-2:30.
Click Here to Read More
Click Here for Additional News