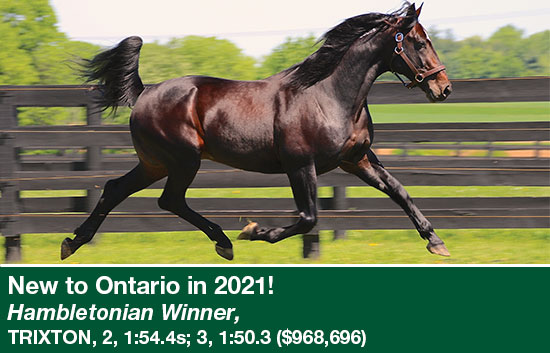 NEWS
Jimmy Freight Retired, To Stud
Tuesday, November 05, 2019 By: Standardbred Canada
It has been announced that O'Brien Award winner Jimmy Freight (p,4,1:48.1s [$1,457,405]) has been retired from racing and will be standing stud in Ontario at Winbak Farm for the 2020 breeding season.
Click Here to Read More
Winbak Farm Videos for Harrisburg Yearling Sale Posted
Monday, October 21, 2019 By: Elizabeth Cheesman
Winbak Farm will be selling 63 yearlings at the 11/4-11/6 Harrisburg Select Yearling Sale. The sale lineup has yearlings eligible to Pennsylvania, New York and Ontario.
Click Here to Read More
Tequila Monday wins Friday night $42,000 distaff derby
Friday, October 18, 2019 By: Frank Drucker for Yonkers Raceway
Yonkers, NY — Favorite—and lone leaver—Tequila Monday (Eric Goodell, $3.90) finished it off Friday night (Oct. 18), winning Yonkers Raceway's $42,000 Filly and Mare Open Pace.
Click Here to Read More
Click Here for Additional News